As a part of the recently announced partnership between Helloworld Travel Group (ASX: HLO) and Mint Payments, HLO's proprietary mid-office system, Resworld, will be integrated exclusively with Mint's new product, MintEFT, in the coming months. Mint's will be the sole payments provider integrated with the Resworld system covering both C2B and B2B payments.
The project will see the seamless integration of the two platforms, enabling agents to utilise all of the functionality that is available through the standalone MintEFT system, without the need to leave the Resworld platform. It will enable significant efficiencies for agents with regard to processing and reconciliation as well as speed of payment to suppliers in order to avoid booking delays.
"We are excited to be partnering with Mint as our key payments technology partner. Mint provides Resworld with the technology to streamline transactions improving the speed, productivity and efficiency for our consultants and their customers. We look forward to implementing current and future innovations that Mint has to offer" said Resworld's Emily Soden.
Amit Nanda, Mint's Head of Engineering, said "The integration of Mint's payment products with Resworld is particularly exciting for us, not just in building on the partnership with Helloworld, but in the simplification it will bring to the significant number of agents who will benefit from the technology through a seamless payments experience."
Read more about MintEFT here.
About Resworld
Resworld is Helloworld's proprietary mid-office platform that has been built with the way that travel agents work in mind. With an advanced user interface including seamless integrations, document management, and the ability to manage bookings from enquiry to quote and through to booking, the platform makes doing business easy.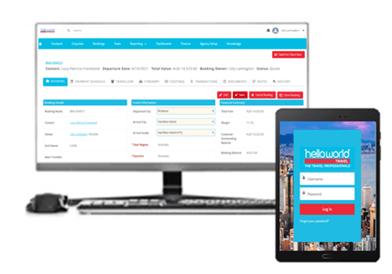 Cloud-based
Modern, easy-to-use interface
Send communications directly from the Resworld platform
Integrations to improve productivity, reduce errors and risk
Manage from enquiry to booking including document management
About Helloworld Travel Limited (ASX: HLO)
Helloworld is a leading Australian & New Zealand travel distribution company, comprising retail travel networks, corporate travel management services, destination management services (inbound), air ticket consolidation, wholesale travel services, and online operations.
HLO's diverse business lines include:
Retail: HLO's retail operations includes Helloworld branded travel agencies, Helloworld Associate Network, Helloworld Business Travel, Magellan Travel, The Travel Brokers, Mobile Travel Agents and My Travel Group.
Corporate: HLO's corporate travel businesses encompass QBT, APX, TravelEdge, Inspire Travel Management, Show Group, Go Conference & Incentives and AOT Hotels, the official accommodation provider to the Australian government.
Wholesale: HLO's wholesale operations distribute travel products and services globally, including household names Viva Holidays, Sunlover Holidays, Territory Discoveries, Asia Escape Holidays, Skiddoo and GO Holidays (operating in New Zealand).
In-bound and destination management: These include AOT Inbound and Experience Tours Australia (ETA) in Australia and New Zealand, and Tourist Transport Fiji and ATS Pacific in Fiji.
Air-consolidation services: AirTickets and SmartTickets provide advanced technological ticketing solutions to a wide range of travel agents and networks.
Cruises: HLO's own specialist cruise brands SevenOceans Cruising and Cruise Co.