Sydney, 23 Sep 2021: Express Travel Group (ETG) has signed on to use the latest product from Mint Payments, MintEFT. The arrangement will see Mint's B2B product made available to ETG's network of independent travel agencies across Australia, enabling the streamlined payment of suppliers in place of the now-discontinued eNett system.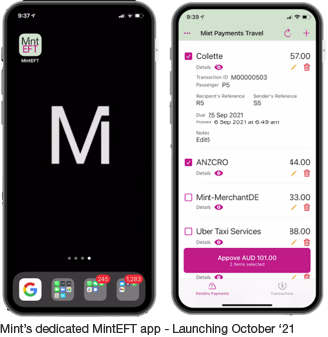 Of particular appeal to ETG was not only the robust features of the MintEFT platform but also the integrations with key travel mid-office systems. The seamless experience of travel agents is a priority to Mint in offering this product, with integrations, user access levels, and the ability to process payments via a dedicated MintEFT app being key features in the MintEFT platform's roll out.
Executive GM of Express Travel Group, Ari Magoutis, said "Express Travel Group is excited to partner with Mint Payments and include the MintEFT solution as a complementary payments solution across our network of independent travel agency members. Having an end-to-end payments solution, flexibility across the Mint product suite as well as integration with existing mid-office platforms and scope for future product innovation proved an attractive solution."
Director of APAC Operations and Mint Co-Founder, Andrew Teoh, commented "We are delighted to partner with Express Travel Group as an official payments partner. Mint has thoughtfully invested in our payment platform capabilities, and we are pleased to provide an innovative, modern alternative to existing payment solutions in the market, making transactions simple and easy. We look forward to working closely with ETG and bringing the benefits of Mint's credit card, EFT and new payment methods, such as FX, to its entire network."
Find out more about MintEFT here.
About Express Travel Group
The Express Travel Group (ETG), is a proudly Australian-owned and operated travel company headquartered in Melbourne, and with representation in Sydney, Brisbane, Adelaide, and Perth.
Since 1983, the Company has been providing fares and ticketing services, marketing, product, technology, and business development support to travel retailers of all sizes and niches and has developed into one of the most respected travel groups in the country, representing the largest group of independent travel agencies in Australia.
Find out more about Express Travel Group here.